10 Tips for a Healthy Lifestyle When You Work from Home
10 Tips for a Healthy Lifestyle When You Work from Home
Hey guys! Ever since I've started teaching and back in the day when I was a personal trainer, I've always been a big advocate of tips for a healthy lifestyle as well as the KISS method. No, not the one where you fall down, and someone kisses your owie, although that does work (scientifically backed). I'm talking about 'Keep It Simple Stupid.' Our lives have become so complicated that we actually have to have a calendar on our phones just too keep it all straight. Plus, we all know the havoc that sitting at our desks can cause on our bodies (and waistline). So I'm combining my love of the KISS method with weight loss and here are my 10 tips for a healthy lifestyle when you work from home.
All of these tips for a healthy lifestyle are the foundation of self-care. As freelancers and those who work from home without the support of a big company self-care should be a major part of your business plan. If you're not sure how your self-care stacks up, take the free Self-Care Assessment by going to:
You'll see which areas you're doing well in and which areas could use a bit more TLC. Alright, now onto the tips for a healthy lifestyle!
Stay hydrated
We're going to start things easy in the list of 10 tips for a healthy lifestyle when you work from home and what's easier than drinking water? Unfortunately, not many of us do it because we're thinking about 35 other more important things. As evolved and complex as our bodies are, most of us are really bad at telling the difference between being thirsty and hungry. We automatically lean towards reaching for a snack when we feel a pang. Studies show that mild dehydration (1-3% of body weight) can negatively affect brain function, mood and cause headaches.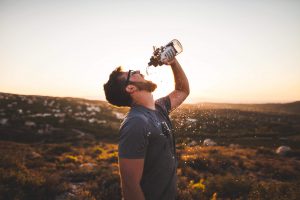 Being hydrated also has a lot of other health benefits such as helping you lose weight, improved kidney function and reduce acne and skin irritation, among others. We all know we should drink water, but not all of us do it enough. So, if you need a little extra push, you might want to find yourself a "smart bottle" that can keep track of your water intake for you and set up reminders to keep you hydrated. I personally like the Styr Labs Smart Bottle Hydration Tracker. You can track your hydration with an app and sync it to your Fitbit so it can send you reminders to drink.  Just, make sure you're not too far from a bathroom, though.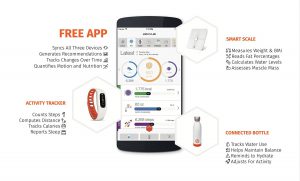 Don't snack at your desk

These are a perfect snack… I'd probably stick to just a handful though.
Eating while doing anything else is usually a bad idea. Research shows that when our minds are occupied with other things (internet, TV, book, even speaking) that we tend to eat more. I'm not saying don't snack. I love snacking and it's a great tip for a healthy lifestyle! It's one of my favorite things to do, but first, I stand up from your desk, walk to the kitchen, and the first thing I see is a bowl of fruit. That's on purpose.
The fact that you get up from your desk and consciously decide what you're going to eat will make a big difference in the long run.
Set a time to move around every 25 min.
As people who work from home, we have to freedom to stand up and move around every half hour or so. If you did that at an office job, your manager might start to think you're lollygagging and wasting company time. However, we know that sitting for extended periods of time is horrible on your body, slowing down digestion, metabolism and just about everything else your body uses to burn energy. Standing up and moving about, grabbing a glass of water, doing the dishes, really anything can help keep your metabolism from bottoming out. If you aren't clear as to why you should move around check out my article: How to Use a Standing Desk It will explain the need to move often.
Tips for a healthy lifestyle while working from home
Fidget
Imagine, you're at a meeting, and the guy across from you can't stop moving his leg up and down, spinning his pen and or lightly tapping the table. Annoying? Maybe a bit. But, technically, he's burning calories. They say you can burn an extra couple hundred calories per day just by fidgeting about. If you're in your home office nobodies watching anyways so go ahead and bounce that knee and twirl that pen. Beach season will be here before you know it!
If it's not water, cut it out
Fortunately for me, this healthy lifestyle tip was never a problem. The average American drinks 450 sugary beverage calories every day. That equals one pound every 8 days. No, don't try to switch it up with diet or 'zero' pops. They're loaded with sweeteners and other things you shouldn't be putting into your body. If you're tired of water, and I'd understand if you are, then spicing it up with some fresh cut fruit or vegetables can make a huge difference.
Get yourself a Water Infusor Pitcher and see what you can come up with. Black coffee and tea are ok since they're basically infused water anyways.
Turn down the heat
Your body turns what you eat into a lot of different things, but one of the most important things is heat. Your body uses the energy that you eat (calories) to help keep your body at a toasty 98.2F. So what happens if your environment is colder than that? Well, you have to burn calories to keep your body temp up. The colder your surroundings become, the harder your body works to stay warm. So following that thought process, if you turn off the heat and sit in a colder house, your body will burn more calories to stay warm. Scientifically sound, yes. But make sure it doesn't go too low. Typing with frozen fingers might be hard.
Chew gum

If you do chew gum, please find a trash can for it.
When you make a chewing action, your body thinks you're eating, and it stops telling you you're hungry. It also can't tell the difference between chewing gum and chomping on a Big Mac. This little trick, if you don't have a healthy snack at hand, of course, can help you push off hunger a bit longer.
Warning* make sure you don't put off eating so long that you overeat at your next meal. This is a temporary fix.
Grab a nap
This might be my favorite of the the 10 tips for a healthy lifestyle while working from home. 20-minute power naps are the only reason I do anything after 2 pm. Being tired lowers your self-discipline and motivation, and that means your productivity slumps, you make bad food choices, your less likely to hit the gym and more likely to hit the couch. Many people take 15-20 minute coffee breaks at work anyways. If you work at home you're just a couple steps from your bed, why not take advantage?
There are different length naps and various benefits to each so you might have to try out a few to see which one best fits your lifestyle. Lifehacker has a great infographic that'll give you the different benefits.
10 Tips for a healthy lifestyle when you work from home
Learn to Handle Stress
Stress or as we've come to know it, the health epidemic of the 21st century has some nasty consequences. All things considered, I would choose stress over the black plague or Spanish Flu, but things like obesity, diabetes, heart disease, and migraines, are nothing to overlook either. There are many ways to deal with stress, but my favorite is meditation: sit down for 15 minutes, focus on your breathing and nothing else. When your mind wanders, and it will, bring your attention back. Easy as that. I've given a better overview in my article Best Meditation Techniques – Freelance Destress Edition.
Tips for a healthy lifestyle: ASMR
Something else I've recently found is called Autonomous Sensory Meridian Response, or more commonly known as ASMR. You know that buzzy-head feeling you get when you get your hair cut or maybe when you hear someone's whispering soothing voice. Well, there's a full community out there of people who are looking for that feeling and using it to relax and sleep better. Most videos are based on whispers and people tapping on things using 3D microphones and intently concentrating on the camera. Yes, it is a bit weird, but if you're having trouble with stress and can't find a cure, it couldn't hurt to give it go. I'd give ASMR for People Who Don't Get Tingles and ASMR 20 Triggers To Help You Sleep. There are different triggers for different people. You just have to find yours.
Get F.lux
This is one of the tips for a healthy lifestyle won't directly help you lose weight, but it will keep you from lying awake at night and getting headaches or dry eyes. F.lux is my savior. As I mentioned in my article Blue Light and Sleep – Improve Sleep to Boost Productivity the light that comes from your computer can really throw off your circadian rhythm and quality of sleep. F.lux automatically turns off the blue light when it's getting close to your bedtime or when the sun is going down, saving you from another restless night sleep. Just tell f.lux where you are in the world and what time you go to bed, and it'll do the rest.
What are you waiting for?
There you've got them. 10 tips for a healthy lifestyle in the year to come. Some are no-brainers and others might take a bit of extra effort to pull off, but if you do them, you'll most definitely see an improvement in your overall well being.
As I've mentioned before, as freelancers we are the only ones responsible for our health. If it fails us, that means we're not working, not making money and most likely our clients are looking elsewhere for a more stable freelancer. Health is one of those things you take for granted until it's no longer there. Prevention is and always will be the key when it comes to health.
Take care of yourself out there and stay healthy!
Do you guys have any simple tricks you can add to the list of 10 tips for a healthy lifestyle when you work from home?