Welcome fellow freelancers!
My name is Andrew and I wanted to thank you for taking the time to visit my site, Healthy Freelancers, and I hope it helps you in the 'not-so-professional' aspects of being a freelancer. As we all know, our personal and professional lives are interwoven and if one suffers, so do the others. I hope you enjoy!
IN MY EXPERIENCE
In the 5 or so years that I've been a freelancer, I've found 100's of pages offering professional help through finding clients, improving productivity, client retention etc. What I haven't seen is the personal aspect of being a freelancer. There are things that people don't mention about being a freelancer that I believe need to be discussed.
The main thing that I didn't realize when I became a freelancer, working from home, is how easy it is to sit in your pajamas all day, not leave the house, and not see another human face for days on end. I was so focused on creating my "brand" that without actual human contact I lost myself a bit.
Before becoming a freelancer, I was a very active person. I have worked as a personal trainer, Peace Corps volunteer in South American and Wildland Firefighter. Health and being active has always been a part of my life. When I became a freelancer, all of that took a back seat to my professional life. I sat at my desk for 8 hours straight and then moved to the couch because I was brain-dead and didn't have the motivation to go out. All of this inactivity lead to weight gain, back pain, tight jaw (stress-related obviously), headaches, etc.
Freelancing has given me the opportunity to work on my terms, when I want, how I want and with whom I want. However, there are 'side effects' though that people don't address that I feel greatly influence your business and bottom line (if that's what you're after).
WHY I CREATED THIS SITE
I created Healthy Freelancers to help people because freelancing has changed my life. It allows me to be creative and work without a boss looking over my shoulder. It lets me work from anywhere on the planet (currently Barcelona) and at any time of the day. However, there are things like the emotional, psychological and physical side of freelancing that become affected when you put so much focus on your business. As we have learned over the years, well-being is more than just making money and financial security (although it helps). There are other issues that need to be addressed to help you live a more fulfilling and meaningful life.
THE GOAL OF HEALTHY FREELANCERS
The aim of this website is to help freelancers deal with the personal parts of their business: reducing stress, relieving back pain, weight management, being social. If you're like me, you're in this for the long-haul and poor habits now can have a lot of nasty consequences down the road. My goal is to help you avoid these common pitfalls and help improve both your personal and professional life.
If you ever need a hand or have any questions, feel free to leave them below and I will be more than happy to help you out.
Before you go!
Remember to pick up your free report on the 2018 Top 5 Ergonomic Ergonomic Office Products to Prevent Pain and Increase Productivity.
Also, make sure to check us out on:
Happy and healthy freelancing everyone,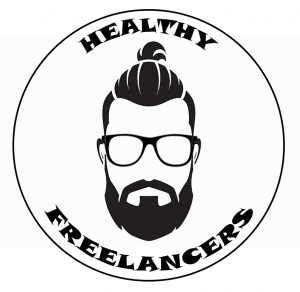 Andrew Carter
Admin@healthyfreelancers.com
[convertkit form=712236]