Best Mouse for Carpal Tunnel 2021- Ergonomic Mouse review
Best Mouse for Carpal Tunnel 2021- Ergonomic Mouse review
I've recently taken an interest in what plagues Freelancers on a daily basis. Some of the most popular responses I have received have been back/neck pain, headaches and wrist/hand pain. I've already covered back/neck pain in my article What About a Stand-Up Desk Workstation and headaches in How to Prevent Stress Headaches. Now I'm onto wrist and hand pain. Last week I started off with an article about The Best Keyboard for Carpal Tunnel 2021 and so the last piece of this little 'pain-free series' is the best mouse for carpal tunnel. So without further ado, let's jump in.
Amazon Affiliate Disclosure: Healthy freelancers is a participant in the Amazon Services LLC Associates Program, an affiliate advertising program designed to provide a means for sites to earn advertising fees by advertising and linking to Amazon.com.
The Best Ergonomic Mouse for Carpal Tunnel Syndrome 2021
What is Carpal Tunnel Syndrome?
You've probably heard the words 'Carpal Tunnel' from someone you know, or you might actually know someone with Carpal Tunnel Syndrome. But what exactly is it? I broke it down in my last article, The Best Keyboard for Carpal Tunnel, but I'll give you an overview here as well.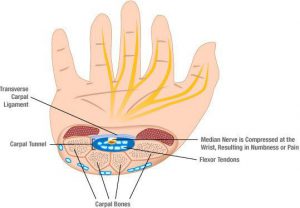 Let's break down it down:
Carpal: relating to the carpus (wrist bones)
Tunnel: well, tunnel. The thing you drive through with your car, but a lot smaller.
So, the carpal tunnel is just a round-tube in your wrist that things go through.
Why's carpal tunnel syndrome important?
This 'tunnel' is important because it houses your median nerve (you know, those things that your brain sends electric currents through so your body can move). This particular nerve is the one that controls your thumb, index, middle and ring finger, so, ya, it's pretty important.
The carpal tunnel is also home to the tendons that move these fingers as well, and they're most likely the culprit of your pain as someone you used the computer a lot.
Why does carpal tunnel cause wrist and hand pain?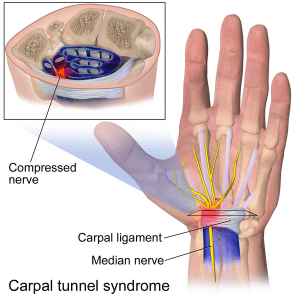 This problem arises when one of those 3 things mentioned above (carpal tunnel, median nerve, tendons) changes in some way. Actual Carpal Tunnel Syndrome (CTS) is caused by a pinch or abnormality in the carpal tunnel. It then pinches the nerve and tendons and causes numbness, pain, or weakness in the fingers and hand.
Also, as the carpal tunnel is hard, it doesn't have any give. If there is any inflammation of the median nerve or the tendons (from overuse like typing on a computer), then this pinches everything in that tunnel and causes pain and other unpleasant symptoms of thumb, finger and hand pain.
Do I have Carpal Tunnel Syndrome?
According to the studies, you most likely do not have carpal tunnel (unless your freelancing job involves power tools and an assembly line). That's because carpal tunnel syndrome is based on the anatomy of the actual carpal tunnel. What's most likely causing your finger and wrist pain are the tendons inside that carpal tunnel.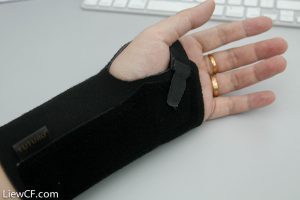 Instead of carpal tunnel syndrome, you most likely have tendonitis or repetitive strain injury. Both of these involve swelling of those tendons. This swelling presses on the median nerve, and you can suffer from carpal tunnel syndrome-like symptoms. If you've ever heard of tennis elbow, then this is basically that but in the wrist. Too much repetition of a single movement and your body does not have enough time to repair itself causing your hand and thumb pain.
How Can the Best Mouse for carpal tunnel syndrome 2021 help?
If you use a traditional mouse, you repeat the same motion over and over. You also have to move your whole arm and wrist to move the cursor on the screen. Lastly, your wrist is at a fairly unnatural angle for many hours of the day.
This probably won't cause any problems for a week, a month or even a year, but over time these small inconveniences will produce damage that your body can't repair and you'll start to have thumb and hand pain.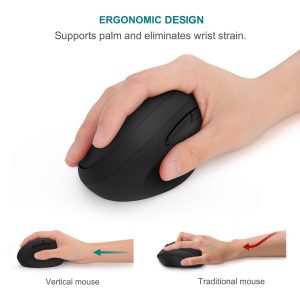 An ergonomic mouse for hand pain returns your wrist to a more natural position which in turn reduces the wear and tear on your tendons. There are other things that ergonomic mice can offer as well like, a thumb rest, different buttons placement, a tracking ball, size changers and vertical tilt personalization.
My criteria for the best mouse for carpal tunnel syndrome 2021
For me, the tracking ball and tilt, or vertical design, are the main components of what I was looking for with the best ergonomic mouse for carpal tunnel syndrome. With traditional mice, you have to physically move the whole mouse to move the cursor on the screen. With trackball ergonomic mice, you scroll the cursor by rolling the trackball under your thumb. You have 360-degree coverage, and it also means less wrist movement, less arm movement, and in the end, less pain.
Some people are nervous that they may not get used to a trackball but according to the video on the Kensington website 75% of users get used to their trackballs in less than a week and 69% say they'd never go back to a traditional mouse.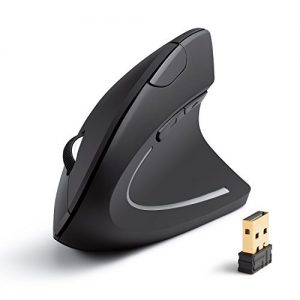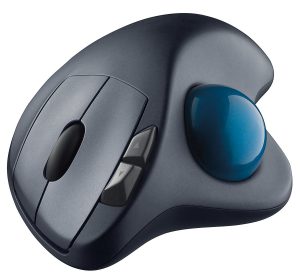 The tilt is also hugely important because as I said, traditional mice put your wrist in a weak position. Arm extended and palm down is not the most ergonomically sound position you can be in. Having a mouse that tilts your palm more towards the center of your body is a much stronger and more natural position for your wrist and hand to be in. This should relieve the pressure from your wrist and reduce hand and thumb pain.
What's the best ergonomic Mouse for Carpal Tunnel syndrome /Repetitive strain injury in 2021?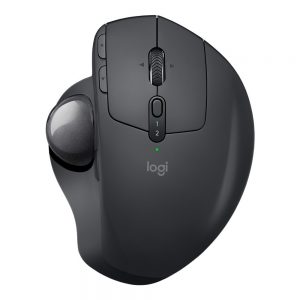 Based on what I've seen and used, the most widely regarded mouse as being the best ergonomic mouse for carpal tunnel syndrome is the Logitech MX Ergo. That's mainly due to its ability to change its tilt to fit your body. As you can see in the photos below, it can go from a 0° to 20° angle and usually just by placing your hand on it and resting your weight naturally, it will find the right tilt by itself.
You can also see it comes with the trackball as well, so you don't have to move it around relieving wrist pain. It's wireless and comes with a rechargeable battery. You can check out the best ergonomic mouse for carpal tunnel syndrome 2021 on Amazon by clicking below.
OR buy at: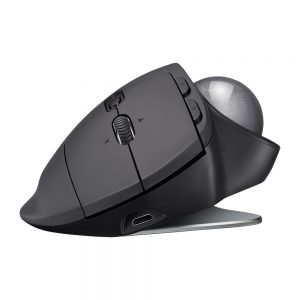 All of these features mean that it's ideal for smaller spaces as well. On stand-up desk workstations, as I mentioned in my article, Sit-Stand Desktop Workstations many of them are difficult to use because of the small keyboard and mouse shelf. However, with this mouse, that isn't a problem.
Andy Slye has done a great job of giving you an overview of MX ergo mouse on YouTube and I've included the video here below if you'd prefer that method.
Best mouse for hand pain: Cons

Many people complain that the tracking ball is a bit 'sticky' and it doesn't roll as freely as they think it should. If you find this as well you can easily buy a replacement trackball, Logitech Replacement Trackball on Amazon to fix the problem. People have mentioned that this solved their problem.
However, if this is your first trackball, then it might be good to have a bit more control over your movements.
Best mouse for carpal tunnel syndrome 2021 runner-ups:
#2: 
Logitech Wireless Trackball M570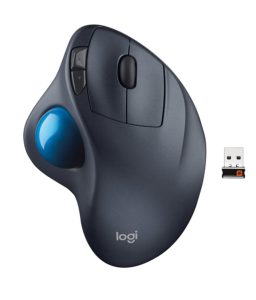 The Logitech Wireless Trackball M570 is incredibly similar to the Logitech MX ergo above however, there are 2 small differences as to why it didn't take the #1 spot as the best mouse for carpal tunnel.
No tilt – As you can see in the photos the base if flat and it's a 1 size fits all sort of deal. As we know, that's not always the case. It's probably great for 80% of people and trying it out it worked for me. However, there will be those out there that the angle just isn't right and without the tilt, there's nothing you can do about it.
The feel – The MX Ergo comes with a soft plastic that is really nice to the touch. I wouldn't say that this ergonomic mouse is uncomfortable by any means, but it just doesn't have the nice feel of the MX Ergo.
However, there is one huge upside to this ergonomic mouse over the MX Ergo, and that's the price. You can get the M570 for less than half the price, at around $30.
Buy the Logitech M570 Now at Amazon or
#3: 
Kensington Orbit Trackball Mouse 
Similar to the Logitech M570 above, this is an ergonomic trackball mouse with 2 buttons and great reviews. The only thing missing here is the tilt of the MX Ergo. The price, at $30, the feel and the trackball movement are all very solid for an ergonomic mouse like this. You wouldn't be disappointed in this purchase if it works for you. Like I mentioned above it should work for about 80% of customers and I've heard very few negatives here. It's just that the MX Ergo has upped their game.
Buy the Kensington Trackball Mouse
Best ergonomic computer mouse for carpal tunnel syndrome 2021 note:
I didn't go with a vertical mouse (see photo right) for The Best Computer Mouse for Carpal Tunnel because they don't come with many of the personalization features of other mice. Also, since this article is aimed at people who work on their computers for a living, vertical mice only give you the most basic features available. Lastly, they do not come with trackballs, so you still have to move your wrist and arm around a lot, which puts extra strain on those joints causing hand pain.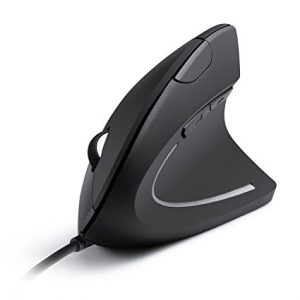 However, if you're suffering from a lot of thumb pain, trackball ergonomic mice may not be the best choice for you as you'll move your cursor by using your thumb to scroll. If that is the case, then my choice for the best ergonomic mouse for hand pain without a scroll ball is the Anker Vertical Ergonomic Mouse. It retails for under $20 and will help alleviate your thumb pain. Check it the best mouse for thumb pain at Amazon: Anker Vertical Ergonomic Mouse
Update: Logitech has released a new ergonomic vertical mouse that is getting incredible reviews, but I haven't tried it as of yet. The Logitech MX Vertical Advanced Ergonomic Mouse.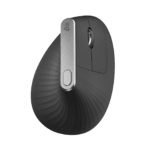 Its claims include:
Reduces muscle strain by 10% (compared to traditional mouse based on a Logitech study)
57-degree vertical angle
Requires 4x less hand movement (compared to a traditional mouse)
Quick charging (3 hours from 1 minute of charge)
Three ways to connect (Bluetooth, Unifying receiver, USB cable)
Multi-computer interface: connect to multiple devices at once
*Even with all of these claims I would still use a trackball mouse. The reducing muscle strain by 10%, trackball mice don't require muscle strain. The 4x less movement, trackball mice don't require movement, and the MX Ergo comes with all of the other features as well. For now, this would be my option for the best vertical mouse for carpal tunnel syndrome. It would also be a solid option for the best mouse for hand pain.
Spendy, but worth it to work without pain
I know the price tag of this carpal tunnel mouse might be a bit high for 'just' a mouse, but let's think about this. You use your mouse 8 hours a day. If it can help you be pain-free for 1/3 of your life, isn't $90 worth it? I personally put chairs, desks, mice, and keyboards all into the same category.  Skimping on them might only cause minor hand and thumb that you can overlook today or tomorrow, but minor problems over 20 years can become catastrophic and lose you both business and money in the long run. That's not even taking into account the time lost with loved ones because your wrists and hands hurt and you can't play with your kids/grandkids.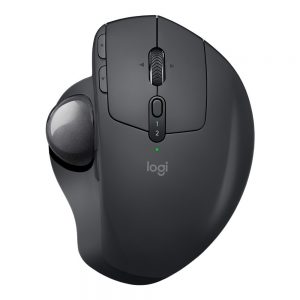 or at Logitech.com MX Ergo
This website, Healthy Freelancers, is dedicated to putting you in the driver seat of your health and giving you the best opportunity to lead a long, prosperous freelancing career. If you're just getting started out in your Freelance Translation Career head over and read How to Become a Freelance Translator Without a Degree where I break down the process I went through to get to where I am today.
Lastly, if you're interested in more ergonomic products for Healthy Freelancers and pain-free work, then check out my Free Ergonomic Home Office guide! It lists the top5 ergonomic office products on the market in 2021. They're perfect for any freelance home office! You can also check out the Ultimate Buyers Guide for Stand-up Computer Desks! There's no better time jump on board.
What do you think about the best ergonomic mouse for carpal tunnel 2021? What's your favorite ergonomic mouse?
Disclaimer: This information is not intended to be a substitute for professional medical advice, diagnosis or treatment. Always seek the advice of your physician or another qualified health provider with any questions about your medical condition.