Ergonomic Keyboard review -Best Carpal Tunnel Keyboard 2020
Ergonomic Keyboard review -Best Carpal Tunnel Keyboard 2020
For many of us, typing and using our computer is how we pay the bills. I know for me as a translator and the writer of Healthy Freelancers, it certainly is. Over the months, the years and decades of being a freelance translator your hands, and especially your wrists take a beating from the repetitive motions of typing. In the end, we're freelancers because we want the freedom to work on whatever we want wherever we want. If we're hurt or in physical pain, then that really puts a damper on the whole reason we do this. Carpal Tunnel is no exception to that. I'd like to run you all through what causes carpal tunnel, and the best keyboard for carpal tunnel pain and how a carpal tunnel keyboard like this can help you type pain-free for the rest of your career.
Amazon Affiliate Disclosure: Healthy freelancers is a participant in the Amazon Services LLC Associates Program, an affiliate advertising program designed to provide a means for sites to earn advertising fees by advertising and linking to Amazon.com.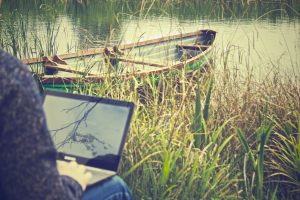 You can also check out my article The Best Mouse for Carpal Tunnel when you're finished here. Having any sort of pain while typing or using your computer can derail productivity and make working something you really dislike doing. Work is a necessity, and we should be as comfortable as possible while we're doing it. Take care of yourself now so you can have a long and prosperous career.
The Best Carpal Tunnel Keyboard 2020
Now, onto the good stuff!
What is Carpal Tunnel Syndrome (CTS)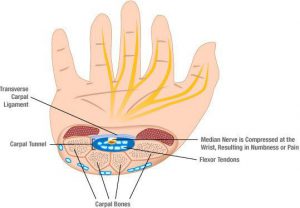 In your wrists, there is actually a tube called the 'Carpal Tunnel.' The median nerve, the nerve that controls the movements of your thumb and first three fingers plus the tendons to your fingers and thumb all run through it. If that tunnel for some reason becomes swollen, pinched, or changed for any reason, then it clamps down on that nerve and ligaments. You can have symptoms such as tingling, finger pain or even loss of muscle strength. This disorder is called carpal tunnel syndrome.
What causes CTS?
Carpal tunnel syndrome can be caused by a lot of different things that require repetitive movements of the wrist for long hours of the day. Many believe that the most common cause is typing, but that's not entirely true. One study actually found those who worked with heavy machinery and power tools were much more likely to suffer from carpal tunnel syndrome than people who typed all day.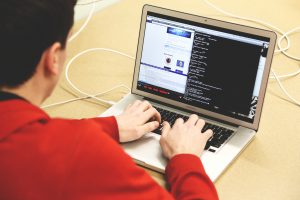 In all honesty, you most likely do not have Carpal Tunnel syndrome as there needs to be some abnormality or change in the actual carpal tunnel. What you most likely have (although don't quote me, I'm not a doctor) I'm just basing this on the studies and clinical cases I've read, is either tendonitis or repetitive strain injury.
What's repetitive strain injury
Repetitive strain injury is similar to carpal tunnel syndrome, but instead of involving the actual carpal tunnel, it's focused on the nerves that run through it. Over many hours, weeks, months of typing, those nerves swell causing carpal tunnel-like symptoms (finger pain, sore wrist, etc.).
Too much repetition of the same movement and your body does not have enough time to repair itself. It's similar to 'tennis elbow' if you've ever heard of that, but obviously in your wrists. Let's check out how carpal tunnel keyboard can help with hand and finger pain.
The Best Carpal Tunnel Keyboard
How to soothe finger and hand pain with an ergo carpal tunnel keyboard
Now, we're on to the good stuff, the best keyboard for carpal tunnel. But first, the best way to get nerve inflammation to go down is to stop using that nerve for a while and let it heal. Unfortunately, for those of us who make a living with our hands, that's probably not an option right now.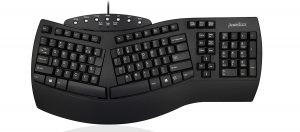 Something else you could do is get yourself a carpal tunnel keyboard or an ergonomic keyboard. You've probably seen them before. The most common ones are more of a V-shape, like in the photo above, although they come in all shapes and sizes. This shape allows for your wrists and hands to be at a much more natural angle than a classic keyboard, which reduces the strain and tension on the nerves and ligaments.
Different types of ergonomic keyboards for carpal tunnel
Ergonomics and self-care are pretty hot words right now, and manufacturers have come up with different styles for the best keyboards for carpal tunnel pain to try and relieve as much pressure as possible from your wrists and hands.
1. Split keyboards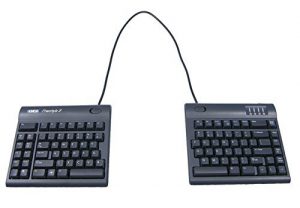 Instead of the standard straight line of tradition keyboards, split keyboards come in a V-shape/or separated. They can either be fixed (ones that don't move) or adjustable, so you change the spacing of the keys according to your body size.
2. Contoured keyboards
This basically takes the split carpal tunnel keyboard idea a step further by creating indents and slopes that fit the length of your fingers. They are placed at a height, so that arm and wrist movement is minimal, which decreases stress on the nerves. Noth contoured and split keyboards would definitely take some getting used to though. You can see in the photo though, that compared to a normal, straight ergo keyboard, this carpal tunnel keyboard keeps your hand at a much more natural position.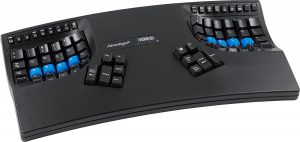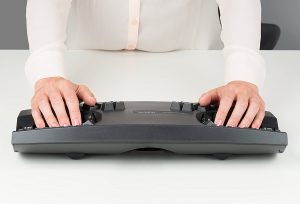 3. Handheld keyboard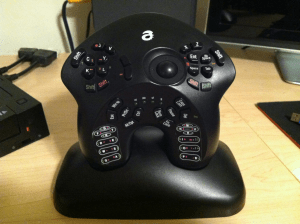 If you've ever played X-box, or have kids who play X-box, this keyboard looks pretty similar to one of the controllers. It's designed to be held in both hands. This gives the user the freedom to walk around the room, lean back in their chair and type away from the computer.
4. Angle Split keyboard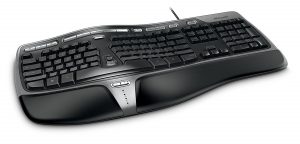 Angle split keyboards are similar to the Angle carpal tunnel keyboard, but it's set at a tilt, called a tent. This means that your thumb and pointer finger are higher than the rest of your hand. The reason is that having your wrists at a more neutral angle (palms facing each other) reduces the pressure and effort required to type. You can see in the photo below of the angle split keyboard how the middle section (where your thumbs are) is higher than the rest of your hand.

My criteria for choosing the best keyboard for carpal tunnel 2020
As I used and read comments and reviews about some of these carpal tunnel keyboards, I decided on a few criteria that would be essential to my decision for finding the best keyboard for carpal tunnel 2020.
They were:
Easy to learn
Natural wrist angle
Wireless
Affordable
Many of the ergo carpal tunnel keyboards met 2 or 3 criteria (natural wrist angle, wireless and some, affordable). However, the one that was most often missed by many was the "easy to learn" criteria.
Looking at the photos above and the different type of ergo keyboards for carpal tunnel, the contoured and handheld keyboard styles look very different than normal keyboards we see today. You'd have to re-learn where the keys are, the spacing and it was a bit of a headache. If you're in the middle of a project and re-learning how to type at the same time, that just seems like a nightmare to me.
With that in mind, let's take a look at the #1 choice for the best keyboard for carpal tunnel 2020.
The best keyboard for carpal tunnel 2020

In my opinion and experience, the Microsoft Sculpt Ergo for Business is widely regarded as the best keyboard for carpal tunnel in 2020. It is an ergonomic Angle-Split keyboard for carpal tunnel which means the keyboard is V-shaped and the middle is angled up, like a tent. The palm cushion also helps to relax and take tension off your wrists during long bouts of typing.
If you'd like a video overview of the Microsoft Sculpt, CNet has done a really nice job. The first 2 minutes or so he talks about the keyboard and then moves onto the mouse. I prefer the mouse I wrote about in The Best Mouse for Carpal Tunnel as I think the scroll ball will really help to relieve wrist and hand pain. Heres the Cnet video for you if you're interested.
The Microsoft sculpt ergo keyboard is wireless and connects via USB 2.0, so it shouldn't be a problem on any device. Batteries are also included. The business version, which I would recommend for most freelancers, comes with a number pad as well, which is disconnected and can be placed wherever you want, depending on your set-up.
Cons:
Many people complain about some of the key layouts on this ergo keyboard. The ins/del/home key layout is a bit different than on traditional keyboards. So it'll take a little practice to get used to it (little being the main word).
Another thing people mention is that this ergo keyboard requires AAA batteries while the number pad uses a Lithium Coin battery (commonly used in watches). If you use the number pad a lot when you work then the coin battery runs out fairly quickly.
I haven't heard any negatives about key touch or pain while typing (quite the opposite actually).
The Best Carpal Tunnel Keyboard 2020 Runner-ups:
Microsoft Natural Ergonomic Keyboard 4000
This ergonomic carpal tunnel keyboard was an incredibly close 2nd place as it has very similar features to the keyboard above. Also at a price tag of only $40 it really is a great buy for something you use 8 hours a day. However, I do have a few small complaints that moved it into 2nd place on my ergo keyboard list.
Noisy keys – I know this is a small gripe, but keyboards don't have to sound like elephants in high heels. It's just not necessary any more, and the keys could be much softer.
Many opinions say it only works for a short time – I haven't experienced this, but many of the opinions on Amazon say that it works for about a year and a half and then the keys stop working all of a sudden. It might be the luck of the draw as others say that it's worked for years
Bulky – If you have the space for this keyboard then great! But if you're using a standing desk converter or something where space is a bit limited, you may find that you don't have the space to accommodate its bulky form
Kinesis Freestyle2 Ergonomic Keyboard
This Kinesis Freestyle2 ergo Keyboard is two baby steps away from being excellent! That's not to say it isn't a solid keyboard, but it's just missing a few things. At a price point of $90 it's also a bit on the spendy end, but if it lasts a few years under 8 hours a day I'd say 3-4 dollars a month isn't too high of a price to pay.
Key placement – There are a few keys that require you to completely remove your hand from the keyboard like the escape key. For the 'home', 'end', 'pg up', and 'delete' keys you'll have to look down at your hands. So if you use them often this keyboard probably isn't for you
No tilt – With the two options above there is a tented design which allows your wrists to be in a more stable and less strenuous position. This keyboard is split, but it's also flat, so it only got half of the design right, in my opinion
Price point – I know I mentioned this above, but I would like to again because the price isn't really warranted as there are no programmable keys and it's just a regular keyboard they split into two pieces to make it more ergonomically sound.
BONUS: Best Portable Carpal Tunnel Keyboard 2020
If you're someone who likes to work in different coffee shops or carries your laptop around but would still like to use a lightweight, ergonomically designed carpal tunnel keyboard than look no further than the Moko Wireless Bluetooth Keyboard. This probably wouldn't be for everyday use as it's small size might hinder some actions, but to use when you're out of the office, it's perfect and much better than typing on your laptop keyboard.
Full standard key size
Bluetooth
Compatible with iOS/Android/Windows
Rechargeable battery – 40 hour battery life
4.9 oz
Automatically turned on when opened and turned off when closed
V-shaped ergonomic design
Soothe Your Pain with the best carpal tunnel keyboard 2020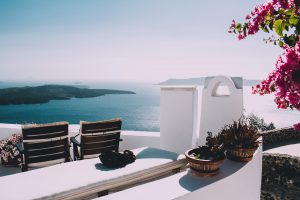 If you're struggling with Carpal Tunnel Syndrome or Repetitive stress syndrome, an ergonomic carpal tunnel keyboard just might be what you need to get back to pain-free typing. Working, especially typing, with wrist pain is almost impossible. But, if you stop working, that means you lose clients, and you'll have to start all over again. Nobody wants that.
The Microsoft Sculpt keyboard line is possibly the best carpal tunnel keyboard for carpal tunnel pain, as well as being one of the most affordable options you can find out there.
If you're interested in more ergonomic products and pain-free work, then check out my Free Ergonomic Home Office guide! It lists the top 5 ergonomic office products on the market in 2020. They're perfect for any freelance home office!
Please leave your thoughts and comments about the carpal tunnel keyboard 2020 in the comments, and I will definitely get back to you!
Disclaimer: This information is not intended to be a substitute for professional medical advice, diagnosis or treatment. Always seek the advice of your physician or another qualified health provider with any questions about your medical condition.