The Perfect Height Adjustable Standing Desk – Any budget, any sized office
The Perfect Height Adjustable Standing Desk – Any budget, any sized office
Dear fellow freelancers! Have you started looking into getting yourself a height adjustable standing desk but aren't 100% sure what you should be looking for? Maybe you're a bit overwhelmed by the options. That's perfectly ok. I've got you covered. I'm going to bring you 5 budget-friendly, perfect height adjustable standing desks for any sized home office. First, take a look at my article, Height Adjustable Standing Desk – What to look for when you buy to see what it is you should personally be looking for.
The Perfect Height Adjustable Standing Desk
*Remember, the min/max height should be the height of your elbow when you're working. (maybe an inch or two lower than your elbow if you count your keyboard).
Buy now for just $199!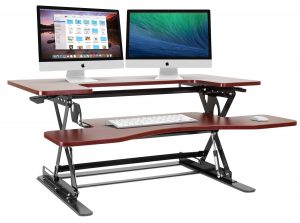 Adjustability: dual-levers and spring loads
Max height: 16.4″
Pros:
Budget-friendly
Easy to use
Preassembled
Perfect for small home offices
Space for two monitors
Enough room for a full keyboard and mouse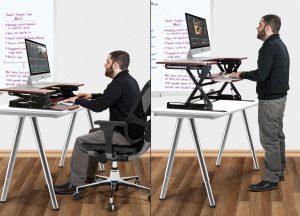 Cons:
Heavy
Some stability issues
Better for shorter people (Under 6'2″)
So, obviously for this price range, you're not going to be getting a perfect sit-stand desk, but it could be great to test out to see if you even like standing and working before splurging on something more pricey.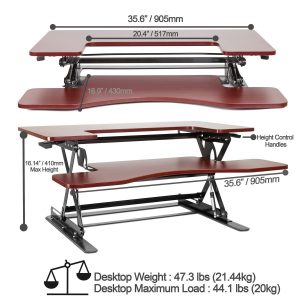 Many of the reviews say that if you use two monitors, then you'll actually have to do some of the lifting because the springs aren't strong enough to lift both. Unfortunately, that small inconvenience might mean that you won't raise it and stand up as much as you should.
However, this is a great introductory product if you're not quite convinced about standing desks. There are other, cheaper models but this one, I believe, has the best cost/benefit in this price range. Less than 200$ on something that most freelancers will use 6-10 hours a day is a pretty sweet deal!
One-Touch Easy adjustability: spring loaded
Max height: 22.8″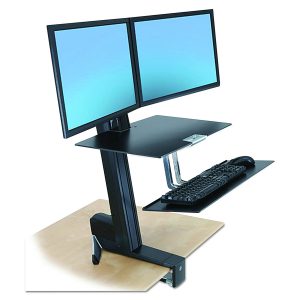 Pros:
Light (comparatively)
Small base
Front mounting
Dual monitor capacity
Cons:
Expensive
non-adjustable keyboard tray
Keyboard moves as you type
Small mouse space
Takes away desk space.
Ergotron is a very well known name in Sit-stand desks converters, and this design is perfect for small spaces. It clamps onto the front of your desk and moves up and down with a smooth lever. The keyboard tray and workspace can be folded if you need your desk space back.
At $405 it might seem a bit pricey, but if it's something that you're going to use day in and day out for a few years, and you don't have space for something bigger, then I'd say it's more than worth it.
Buy NOW: Ergotron Workfit-S Dual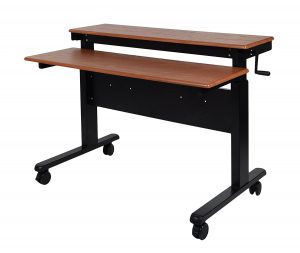 Adjustability: Hand Crank
Min height: 29″
Max height: 42.75″
Pros:
Two-tier design
Mobile
Steel frame
Plenty of space
Cons:
Long time to crank
Have to adjust height each time you stand
Some bolts don't work properly
Poor instructions
This is a great budget-friendly and mobile, height adjustable standing desk. There are obviously some things that could be improved on it, but overall talk seems to be very positive, especially if you have a small space and would like to be able to move your desk from one place to another. Once again, be careful if you're short (5'3″) or tall (6'3) because it may not work for you. Take a look at the minimum and maximum height before you buy!
The one main flaw that I see is the crank. If you don't mind spending a minute and a half cranking away 60 or 70 times on your desk, then you're good to go. However, if you want to stand every 30 minutes or so (as you should), then this might be a pain. Another comment said that cranking while talking on the phone was neither comfortable or advisable. This would be a great option if you're looking to buy a budget-friendly full desk though.
Buy NOW: Crank Adjustable Standing Desk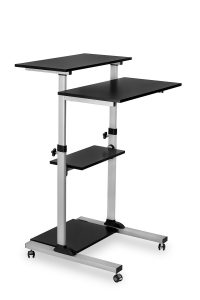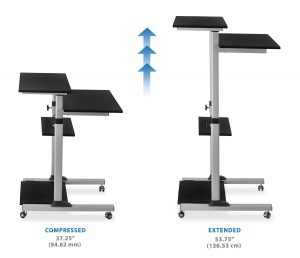 Adjustability: Locking intervals
Min height: 37″
Max height: 54″
Pros:
Mobile
Ergonomic
Works for taller individuals
Strong material
Very small
Cons:
Best for only standing (laptop)
Single monitor stand
Small keyboard tray
Cheap wheels
If you're really cramped in your home office (or don't actually have one), this height adjustable standing desk might be great for you. Unfortunately, sitting at it would be a bit awkward. If you don't work for hours on end or would like to set up your laptop and a Bluetooth keyboard/mouse combo here, that would be perfect. If your job requires you to make phone calls or you just want to check some emails quickly, this workstation would be perfect for you.
However, if you need to have a full desk where you sit and work for hours on end, this option probably isn't for you. One of the more complete desks would work better. This is a specific model for very very tight spaces!
Buy NOW: Mount-It! Mobile Stand Up Desk
Adjustability: Electronic motor (1/3″ per second)
Min height: 28″
Max height: 48″
Pros:
Very stable
Easy adjustability
Memory controller
225lb capacity
Easy assembly
Great value for the price
Cons:
Heavy
Possible user error in assembly
Easily scratched surface
Tall people beware
This desk, for the price and what you get, is the best thing out there. Are there better desks out there? Maybe. Are there desks out there with a better cost/benefit? I don't think so. This desk comes with dual motors and a memory control remote. That means, all you have to do is push the right number, and the desk automatically moves to the position you've set it at. The motor is quiet, and it's all easy to set up (less than 30 min).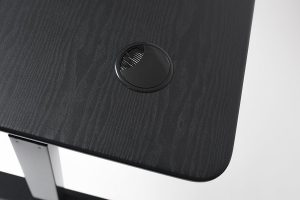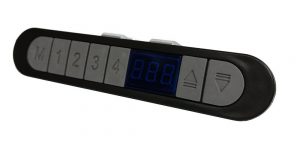 The legs are made out of steel, and the top has a nice rounded front which lets you get closer to your keyboard, so you don't have to stretch out. If you have the room for a full desk and would like something that goes up and down on its own for a couple hundred more than a crank desk, this ApexDesk is the option for you. Many desks this style are well above $1,000. This is the perfect desk for any freelancer who's looking to be more health conscious and take care of there body in the coming year.
Buy NOW: Apex Desk Elite Series
So, there you guys have them. The top 5 height adjustable standing desks for different budgets and home office spaces. If you do happen to get yourself one you should also check out my article about the proper use of height adjustable standing desks.
It seems to be a common theme that these desks don't work for taller or shorter people but I guess manufacturers have to play towards the masses. Just make sure you check the minimum and maximum heights before you buy. If you buy one, open it, assemble it and find out it doesn' work for you, it could really be a pain to return it (although it can be done).
Have you guys bought a height-adjustable standing desk? Which one did you get? Would you recommend it?
​
​
​
​