Executive Office Solutions Laptop Stand – 1-year Review
Executive Office Solutions Laptop Stand – 1-year Review
Last year I finally took the plunge into being a full-time freelancer. Unfortunately, I didn't have any of the equipment that I would need to work from home for 8 hours like, a standing desk, or chair. I guess all businesses have a start-up cost. Luckily for us (if you already have a place to live) then those costs are relatively cheap. I'm a freelance translator, and I've always felt more comfortable working on a laptop. I like to move around, type on the sofa, edit in bed, take my work to the patio on sunny days or maybe even a cafe if I feel like emerging from my cave. One thing I underestimated though is how bad it is for your neck if you work full time on a laptop. I realized something needed to change, or I'd have a crick in my neck for the rest of my life. I started digging an found the Executive Office Solutions Laptop Stand. I've been using it for about year now and wanted to run you guys through the features, pros, cons and anything else I think you should know. So, let's do it.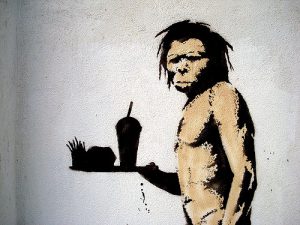 Features: Executive Office Solutions Laptop Stand
This thing is actually pretty simple. There's not a whole lot to it. As you can see from the photo, it's a flat top where you put your laptop, and it has a leg on each side with three hinges on each side. These hinges move in 360-degree circles so you can basically make any shape you want. It's made out of lightweight aluminum, so mobility isn't an issue either.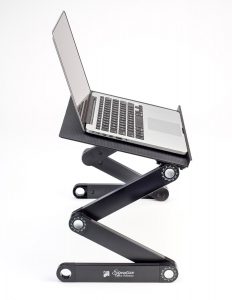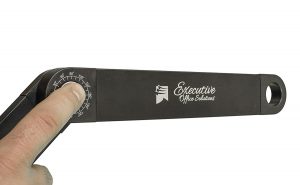 To change the height, or shape you just push the button at the hinge as you can see in the photo, and move the leg to where you'd like it to stay.  It clicks into place, and you're done. As I said, it's pretty simple but moving from one place to another while you're working can be a game changer
My Experience: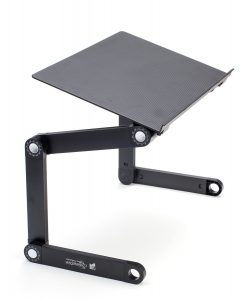 I usually just leave it on my desk in a C-shape (see photo), because, for me, that's a perfect height for when I both sit and stand at my desk. I've actually found that I don't have to change it around that much either. I can grab it, in that same shape, and move to my bed. I'm 6'3″ and a pretty big guy, but I can fit snuggly under it.
The woman in the photo below is using it more open than I have it. I don't really see the need for that, but you can do it however you'd like. (I also wouldn't recommend working on the ground but, oh well).
Obviously, if you're going to use this on your desk, you can't put your laptop on it and then type. Your shoulders would be burning after 20 seconds. You'll most likely have to get a Bluetooth keyboard and mouse to go with it. However, for sitting on the couch or in bed, it's perfect.
It's not flashy, or all that exciting, but for me, someone who likes to work on a laptop and to have the freedom to take it anywhere I want, it's been one of the best things I've ever bought for under $40.
Laptop stands for the win!
Should I get a desktop computer now that I'm a full-time freelancer? Ya, probably. Maybe I'll put that in my 2018 budget. For now, I love the executive office solutions laptop stand because I can move my work wherever I go and let's be honest, that's the main reason I became a freelancer in the first place. Freedom.
Editing in bed, working in the sun on the patio, or sitting at Starbucks and pretending to work while everyone's writing their screenplays is a lot easier now with this stand. I'd definitely recommend it if you've got a permanently-bent neck from working long hours on your laptop.
Buy Now: Executive Office Solutions Laptop Stand
Even though this laptop stand gives you the freedom to move around you should definitely be doing the build of your work from your office. Setting it up and find that perfect spot can be tricky, so I broke down some things you should look for in my article: How to Organize a Home Office – Function and Comfort over Form.
Endnote: There's even a model that comes with a fan and a mouse pad for about 5$ more (click here). Might be worth looking into.
​