13 Healthy Snacks for at Work – Guilt-free Snacking At Your Desk
13 Healthy Snacks for at Work – Guilt-free Snacking At Your Desk
I'm going to let you all in on a little secret. I think my favorite thing about being a freelancer is that I have my entire kitchen at my disposal 24/7. I'm what we call in the foodie world, a 'grazer'. I eat all the time, but I don't usually eat that much. I'm also not so much of a breakfast, lunch and dinner type guy but rather I snack all day long. I'd like to run you guys through a few my favorite healthy snacks for at work (aka home).
Mango Coconut Chia Yogurt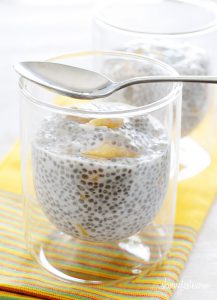 I love everything about this recipe. The protein from the chia seeds, the fiber from the mango and the probiotic in the yogurt, it's hard to beat this for in the easy or health department.
As for the sweetener, I would definitely stick with honey as I'm not a fan of stevia. If you could live without any sweetener that would probably be best actually.
Making 6 small jars on Sunday, and you'll have one for each day of the week. Easy, ready-made, and they're the perfect healthy snacks for at work.
Ingredients:
1/2 cup lite coconut milk
1/2 cup unsweetened almond milk
3/4 cup fresh ripe champagne mango, diced
2 tbsp chia seeds
4-6 drops Nu-Naturals liquid stevia (or sugar/honey to taste)
Peanut-butter apple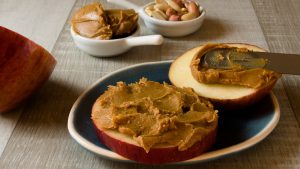 As the name implies, this is basically just an apple with peanut butter on it. However, the combo of savory and sweet is much more satisfying than it should be. This combo works perfectly from the protein of the peanut butter to the fiber and sweetness of the apple. Easy, but oh-so-good!
3-ingredient Cookie
I'm sorry if you got excited when you read the word 'cookie', but these things really are dynamite! All it takes is:
2 medium ripe bananas, mashed
1 cup of uncooked quick oats*
1/4 cup crushed walnuts
Cooking Directions:
Combine all the ingredients in a bowl
Use a spoon to make balls on a pre-sprayed cookie sheet
pre-heat oven to 350 and cook for about 15 minutes
If you make a dozen or so they'll be good for the whole week, and you can grab one or two whenever you feel like it some healthy snacks for at work.
Related: Should I Have Breakfast – Does and Donts of the 'Most Important Meal'
Roasted Chick Peas
Heat your oven to about 450 degrees. Season dried chickpeas with olive oil, salt, garlic, cumin and a bit of cayenne for spice. Bake for 30-40 minutes or until browned and crunchy.
These things are perfect for busy freelancers. Instead of candies or whatnot on your desk having a bowl of these will let you snack, guilt-free. Chickpeas are full of fiber and protein that will keep you full until you can take a real break.
No-bake energy bars
I love no-bake bars. They're easy, fast and you can save them for weeks. Just throw the ingredients into a bowl.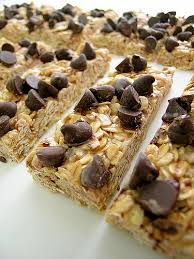 1 cup (160g) steel-cut oats (those that takes about 3 min to cook)
1 cup (80g) unsweetened shredded coconut
1/3 cup (80g) mini-chocolate chips (optional)
1/2 cup (90g) peanut butter
1/3 cup (100g) honey
Put that mixture on a baking sheet and flatten with a spatula. Cut to your desired size and then toss them in the freezer or fridge for an hour to solidify.
Great for on the go and or to have on hand between meals.
Ants on a log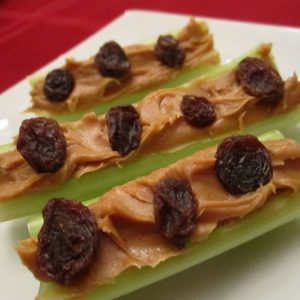 This one's a classic, but it turns out, also really healthy! A piece of celery with peanut butter and raisins is all you'll need. Your childhood memories will start flooding back in.
Trail Mix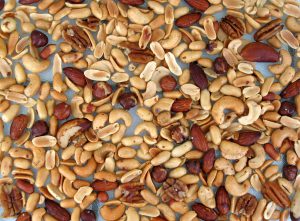 There are many reasons I love trail mix and why they're the go-to snack for people on the run. You can create many different combos of trails mix with nuts and dried fruits.
One of the easiest that I've found is simply peanuts and dried cranberries. Sweet, savory full of protein and fiber.
Take a look at 21 Healthy trail mix recipes for more ideas.
Hard-boiled eggs
Eggs got a bad rap there for a while because they were said to increase cholesterol. As we've come to find out, there are two types of cholesterol and eggs have the good one.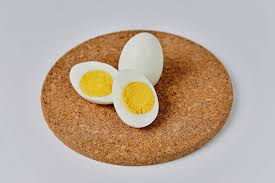 There is actually no recommended amount of eggs that you should limit yourself to. They're packed full of B-vitamins and protein. Throw on a little bit of sea salt, and you've got a great, quick snack.
Related: 10 Tips for a Healthy Lifestyle While Working at Home
Sliced tomato with feta and olive oil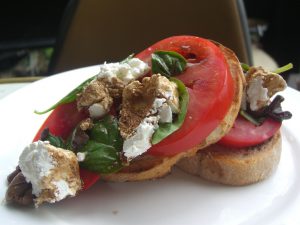 This one just sounds fancy. It's actually quite straightforward and delicious! Toast a slice of bread, put a dash of olive oil on
it and then top with feta and sliced tomato.
It'll bring the taste of the Mediterranean right to your kitchen. It's really lovely and refreshing on a hot summers day as well.
 Healthy Snacks for at Work
Cinnamon popcorn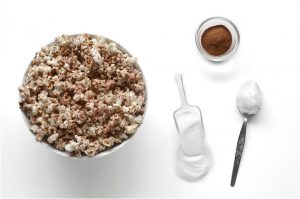 I love popcorn. However, mine is usually topped with melted butter and salt while I'm watching a movie. I obviously only do that occasionally. However, what I do love is popcorn topped with cinnamon.
The cinnamon plays with the salt and makes for a tasty and healthy combo.
Cantaloupe
So this one is a bit out there. Any fruit, no matter the size or color is good for you. Plain and simple. For example, 1/2 cantaloupe has about 93 calories. That's less than those little 100 calories child sized bags of crackers people get.
Cantaloupe, watermelon, melon, really all types of fruit are healthy snacks for at work. They're packed full of fiber and vitamins and minerals that will keep you full until mealtime.
Soft-boiled eggs on toast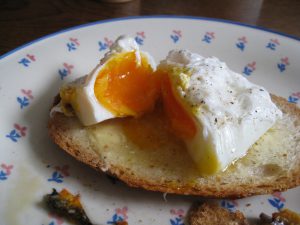 This is one of my favorite snacks of all time. I've recently purchased myself an egg cooker because trying to get soft boiled eggs just right in boiled water caused too many sleepless nights.
Put two soft boiled eggs on a piece of toast, let the yolk soak in for a minute or two, and you've not only got a healthy snack but ones that's easy and tastes wonderful.
If you just have to have something from a package or if you're on the go and don't want to carry 1/2 of a cantaloupe around, then my recommendation would be RXBARs. Their slogan is:
No added sugar, no gluten, no soy, no dairy, no GMO, no B.S.
I like the sound of that. Here's a shot of one of the ingredient lists off their coconut chocolate bar.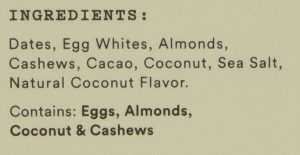 There are only 8 ingredients, I can pronounce them, and I know what all of them are! That's almost unheard of in the health bar industry.
These are my go to if I know I'll be out of the house for a long time, or I haven't hit the store yet, and I'm looking for some healthy snacks for at work.
Click here to check out more options from RXBAR
If you guys are looking for some more great diet and foodie tips check out: Diet and Fat Loss – 10 Hassle-free Tips for Freelancers. It will definitely point you in the right direction.
Do you guys have any go-to healthy snacks for at work that you couldn't live without?