Easy Aromatherapy Recipes – 5 Oils Toolkit Ebook review
Easy Aromatherapy Recipes – 5 Oils Toolkit Ebook review
Hey there Freelancers! I wanted to write a quick review about an E-book I read a while back. I was just getting into essential oils and it was a daunting task to say the least. Where do I start? Which oils do I buy? How much do I use? What's the point of all this? Plus many more questions were racing through my brain wondering if I should shell out the dough. So, I went searching and stumbled upon a book written by Kyley Zimmerman, 5 Oils Toolkit – Aromatherapy recipes & remedies using Lavender, Lemon, Oregano, Peppermint and TeaTree. As I was looking for easy aromatherapy recipes and this sounded like a great place to start.
Easy Aromatherapy Recipes – 5 Oils Toolkit Ebook review
Essential oils overview
If you've looked into essential oils at all, you'll know that the options are endless and it can be more than a bit overwhelming. When I happened upon Kyleey's 5 Oils Toolkit, I thought, "5 oils? I can handle that." The organization and the way she lays everything out couldn't have been better for the novice that I was.
Chapters 1 and 2 focus on an overview of essential oils and how exactly you should be using them for maximum effectiveness. She breaks down what they are, what they do, why quality is important and the safety and application of using essential oils. Looking back, these are all things I should've known about essential oils before even thinking about buying. Having her lay everything out in such as easy and well-spaced way made a fairly difficult subject easy to digest. Plus, she saved me from the 100's of things I probably would have done wrong without her book.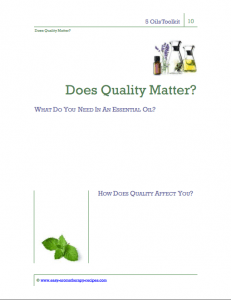 Breaking down each essential oil
Each of the next 5 chapters is focused on one of the essential oils in the title: Lavender, Lemon, Oregano, Peppermint and TeaTree. They are without a doubt, well researched and broken up into bite-sized pieces. First, she gives you an overview of the properties and beneficial effects of each essential oil and then dives into the recipes and uses. They range from lice prevention to deodorant to lotion to help with cellulite. Who knew? I certainly didn't. She then talks about how each one can be used in different ways (inhaled, ingested, cleaning supplies, antiseptic, foot soak, etc.)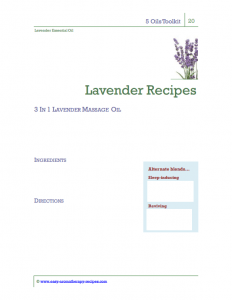 I think my favorite part about her easy aromatherapy recipes are the little extra tidbits and fun pieces of information she gives you. I hope she doesn't get angry but I've included one here so you can get an idea:

Easy Aromatherapy Recipes and Uses
She then lays out over 60 common ailments, such as bad breath or sunburn and exactly how to cure them using one or a blend of the 5 oils she already talked about. They're organized alphabetically, and they're very easy aromatherapy recipes that anyone could handle.
Lastly, she then talks about her favorite brand of essential oils, why she likes that particular brand and then some resources to help you continue your journey through the world of essential oils.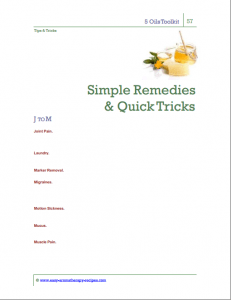 My Final take
Honestly, if you're a newbie to essential oils, aren't sure where to start and are somewhat overwhelmed with all of the contradicting information out there, this book, in my opinion, is a perfect first stepping stone. Beginning with 5. more or less familiar, essential oils, understanding exactly what they can do and what you should expect will get you headed in the right direction. However, if you have some knowledge and don't need to start from zero, then it may be a bit basic for you.
She's undeniably knowledgeable about essential oils and even says that she's been able to work strictly from home with her understanding of essential oils. Her recipes and guidance definitely launched my interest in essential oils and at least I knew I was headed in the right direction. Click here to head to her website to see for yourself.
Lastly, for a bit more information on essential oils, diffusers and easy aromatherapy recipes, you can check out my articles for more info: What is the Best Diffuser for Essential Oils? and The Best Place to Buy Essential Oils – Your One Stop Shop