Flexispot Deskcise Pro V9 Review: Comfort and Function in One
Flexispot Deskcise Pro V9 Review: Comfort and Function in One
You might have seen the under-desk-bikes floating around. You may have even seen the Flexispot Deskcise Pro on social media lately. They're in the middle of a massive campaign as they partner with Instagram influencers like @taymbrown and @cp_g to get their name out there and it seems to be working. I've been using Flexispot products for about 2 years now and couldn't be happier with them. I currently use the Flexispot E2 height adjustable desk. If you'd like to check out my review on this budget but solidly-made electric height-adjustable desk head to Flexispot E2 Desk review.
Flexispot Deskcise Pro V9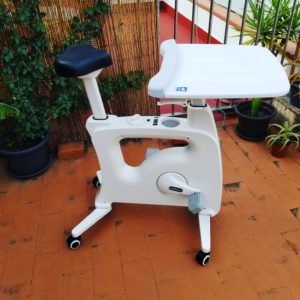 100+ 5-star ratings on the Flexispot website and 99 ratings on Amazon.com with a 4.8 rating. It's also a CES 2018 Innovation Awards Honoree! Flexispot is definitely onto something here and I've been dying to try out this product for a while now. Luckily for me, the wonderful people at Flexispot have given me the opportunity to try out there Flexispot Deskcise pro v9 and write a review for you all.
Obviously, the opinions are my own. After having used the bike for about 2 weeks and as you'll see, I point out both positives and negatives. No product is perfect (in my point of view). I want to make sure you understand the pros and cons of what you're getting if you click through one of my affiliate links.
Affiliate Disclosure: This post contains affiliate links. If you purchase something through one of the links, you won't pay anymore, but I will get a small commission, to help keep me up and running. I don't promote anything I haven't/am currently using and wouldn't recommend to my own family. Thanks!
Now, that's out of the way. Onto the good stuff, my review of the Flexispot Deskcise Pro V9. If you just can't wait and are ready to see the product on Flexispot's website. Click the link below to head straight to the Flexispot website! Make sure to click the button "W/out desk".
Flexispot US: Flexispot Deskcise Pro V9U
Flexispot UK: Flexispot Deskcise Pro V9U
Amazon.com or Amazon UK: Flexispot Deskcise Pro V9U
Flexispot Deskcise Pro V9: Video Review
If you'd prefer to watch a video breakdown of the Flexispot V9 then this video from Andy Slye does a great job! He leaves a few minor things out but it's a solid review!
Flexispot Deskcise Pro V9: What is it?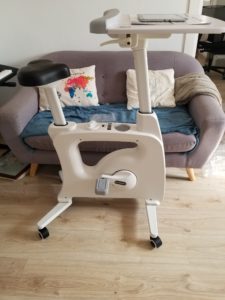 I believe Flexispot has done a great job on their website of describing what their product is, so I'll let them explain it:
Part exercise bike, part ergonomic work desk, the FlexiSpot desk bike helps you maximize your activity level while working at your laptop, reading a book, or streaming your favorite show on a tablet or smartphone.
I'd say that's a pretty spot on description. As you can see from the photos, this is a stationary bike that is equipped with a desk. The idea behind the Flexispot Deskcise Pro is to combat the sedentary behaviors that are having dire consequences on those of us who work at a desk all day. Research shows that changing your position often and moving your body can not only combat but also reverse the negative side effects of sitting all day.
Many people use the excuse that they're not able to exercise because they don't have time. Flexispot has eliminated that excuse from your repertoire. You can now pedal away while you're answering emails or, like me, writing reviews and articles (yes, I'm sitting on the Flexispot Deskcise Pro right now). It's comfort and design really make it great for anyone looking to break up their sedentary lifestyle. If you've ever had back pain from sitting too long or are starting to see your waistline grow because of your freelance lifestyle, then this article is for you!
Features:
30-day risk-free return policy
3-year warranty. Electronic components 1-year warranty.
300lb capacity
"Almost" fully assembled – it took longer to get it out of the box than to assemble it.
Front and backpedalling resistance (keep the body guessing)
Magnetic Tension Resistance – Unlike many exercise bikes on the market with physical breaks, as you turn up the tension, it doesn't make any weird, grinding noise.
Gravity Sensory Wheel Locks – This is something I'd never seen before. As you can see below, the wheels, don't come with locks. When you're not sitting on it, it rolls very smoothly. Once you hop onto the seat though, the wheels lock into place. I'm not 100% how they work, but it must have to do with the extra weight. Something falls into place that no longer allows the wheels to roll easily.
Barefoot pads – If you're like me and your "work uniform" is basically your pijamas then the pads will really come in handy. They're just rubber pads you slip on the pedals, but I was pleasantly surprised when I saw them. (Kudos Flexispot)
Desk wrist pad – As this desk is made to be used with a laptop most don't come with a wrist pad. It's a nice touch and a testament to Flexispot's commitment to quality and comfort.
LCD bike screen – Like most static bikes, the flexispot v9 will show you a bunch of different categories including time, speed, distance, calories, odometer and RPM.
Cup holder (used for the beverage of your choice, depending on the type of day you're having)
Flexispot Deskcise Pro V9: Assembly
I'm not going to waste your time here by walking you through every step because if you're reading this article, you're more than capable of reading the easy, step-by-step instructions from Flexispot. All I want to do is show you what comes in the box. That way you'll know what to expect when you get one yourself.
The box is massive by the way and quite heavy. Probably best as a 2-person job.
Here's everything that's included.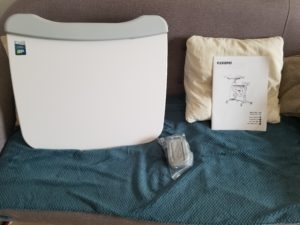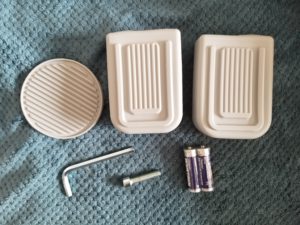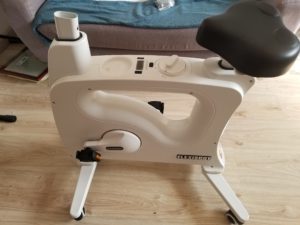 It should come with the directions, desktop, cup holder pad, Allen wrench, 1 screw, 2 AA batteries, 2 pedal pads and the bike(fully assembled as seen above). In the picture above I've already opened up the wheel legs because it wouldn't stand up. They'll come folded up out of the box. Just pull on them until you hear a click. Don't be afraid of breaking it. It's a beast!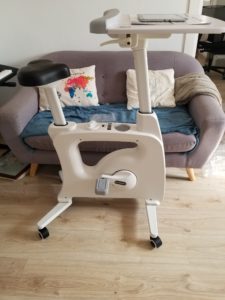 All put together it should look just like this. Incredibly simple and definitely shouldn't take you more than 20 minutes from start to finish.
*Hint: the batteries go under the cup holder. Make sure to put them in first before you put in the pad. The directions weren't very clear about that step.
Flexispot Deskcise Pro V9: How to use it
The Flexispot Deskcise pro can be used in 4 different ways depending on what you're looking to get out of it. Let's run you through each one now and what you can expect.
Exercise bike with desk
This is the main purpose of the Flexispot Deskcise pro. It's meant to be used as an exercise bike with a desk attachment. With this set up you can constantly be moving, but you don't have to sacrifice time by going to the gym. The idea is to help you save time by allowing you to combine exercise and work or exercise and Netflix, your choice.
Standard Exercise Bike
You could also use your Flexispot Deskcise pro as a regular exercise bike. If you don't need to work, you can hop on and get a solid workout. The hardest settings are quite challenging, and you should be able to get a good sweat within 10 minutes or so. You could also use it while you watch tv, play video games, surf Instagram, shop online, you name it.
Standing Desk
If you're tired of pedalling, then all you need to do is move the desk all the way towards the seat and use it as a normal standing desk. After a while, you will get tired, and switching position is not only good for your health but also your productivity and mindset. I've found standing while working is a great way to break up the day. A 10-15 minute standing break can really help to clear your mind and improve your productivity. As you'll see later on, if you use a laptop you'll have to get up and stretch.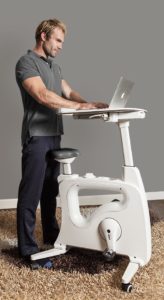 *Under Standing Desk Bike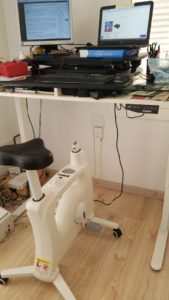 So this one isn't featured on Flexispot's website, but it's possibly my favorite use for their Deskcise Pro. (Flexispot does have another product, the Standing Desk Mate – Under Desk Bike which is very similar to the Flexispot Deskcise Pro but without the desk attached.) If you take off the desk (one screw and about 15 seconds if you didn't lose the Allen wrench), you can push you Deskcise pro under a standing desk and work using you full-size desk.
As a translator, I use two monitors and a Bluetooth keyboard and mouse (see my favorite mouse and keyboards here: Ergonomic Mouse and Keyboard) Unfortunately I can't fit all of that onto the desk that comes with the Flexispot Deskcise Pro, so I've improvised a bit.
Check out the Standing Desk Mate here if you think this option is best for you. They even have an Ergocombo: Standing Desk with Under Desk Bike
Flexispot Deskcise Pro V9: Pros
Silent pedalling
There really is very little to no noise when you pedal on the Flexispot Deskcise Pro. Typing and clicking your mouse makes more noise than it does. You could easily have a baby sleeping in the same room without worrying about disturbing it. It's incredibly quiet and a great testament to Flexispot's engineering and quality.
Butt friendly
Take a look at that seat! I'm known to have a bony butt and can feel almost anything I sit on. However, this seat is like a cloud! It obviously takes time to get used to, like anything, but after a week or so it really was like sitting on any office chair. I could easily go for a few hours without worrying too much about being uncomfortable (tired, yes, but not in butt pain). It's much nicer than most exercise bikes you'll find out there.
Highly adjustable
On the Flexispot website, they mention that the ideal fit is for people between 5'1″ and 6'2″ (155 to 183 cm) and that's pretty spot on. If you're within that range, it'll be perfect for you. Besides being able to move the seat and desk up and down, you can also move the desk forward and back.
That means if you'd like a bit more space or have your laptop closer you can. This also allows you to use the desk as a standing desk. If you push it all the way forward, you can step off of the bike pedals and work standing up. I've found you'll probably have to stand up every once in a while because no matter how comfortable the seat, you'll have to switch it up. This gives you the option to keep working while on your feet.
Great stability and solidly made
I've mentioned it in all of my articles about Flexispot products, but I'll say it again here. Flexispot's products are superbly built! The Flexispot Deskcise Pro v9 is no exception to that rule. Throughout these two weeks, I've never felt like it was flimsy or it would fall over or break. Flexispot uses solid materials, and their manufacturing is top notch. That's really all there is to say about the build. Don't even worry about it.
Flexispot Deskcise Pro V9: Cons
Poor ergonomics
Unfortunately for Flexispot, laptops have incredibly poor ergonomics. If the screen is at a good height than the keyboard is too high and if the keyboard is well-placed than the screen is too low. That's just how laptops are made. Sacrificing ergonomics for comfort and mobility is basically what a laptop is all about. I talk more about this in my article How to Use a Standing Desk if you're curious about proper office ergonomics.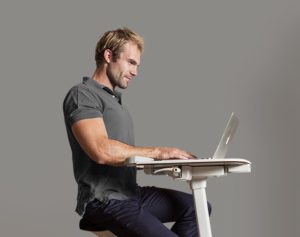 That said, making products that are meant to be used with laptops will most likely have pretty poor ergonomics as well. As you can see in the photo above the screen is incredibly low. The top of the screen should be at eye level. After a while (at least a few hours) you'll have a crick in your neck from looking down. However, if you're using the Flexispot Deskcise Pro while you watch tv, play video games, Netflix or something that doesn't involve putting a laptop on the desk, then the ergonomics are fantastic! You could go as long as your legs don't give out on you.
Height range up to 6'2″
This is something else I've mentioned in my other Flexispot product reviews, so it won't be anything new for those of you who have read my articles. I'm am just shy of 6'3″ (189 cm). Flexispot states on their website that the best fit is for people between 5'1″ and 6'2″. Obviously, don't fall into that category, but if I move the desk and the seat to their highest, I fit snuggly and can pedal comfortably without any problem. Any taller than me though, and you'll have some issues with your knees hitting the underside of the desk.
The above picture is my leg at the seats highest position. On a static bike in the gym, you'd want that leg very close to straight. Not completely straight but close enough you can use your whole leg to pedal harder.
Now, if you're looking to use the bike under a standing desk, you already have then the fit shouldn't be an issue since you'll take off the desk. If that's all you'd like to do though, I'd recommend going for the Deskmate, which is $100 cheaper and doesn't come with the desk part.
*Really heavy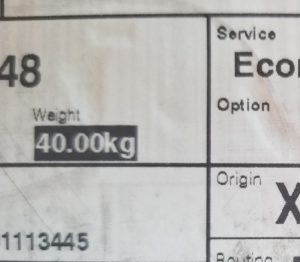 I've put an asterisk with this one because this is a bit of a double-edged sword. As I mentioned in the Flexispot Deskcise Pro V9: Pros section, this static bike is incredibly solidly made. Those heavy-duty materials and 300lb weight limit usually come with a lot of weight themselves. The box says it weighs 40 kilos (98lbs), but I think that might be low balling it a little. You'll definitely need some help getting it out of the box and standing upright.
Once you have it "assembled" (pulling out the legs, pedals and the one screw for the desk) anyone should be able to move it quite easily. The wheels roll very smoothly. If you're not planning on moving it up and down stairs very often, you shouldn't have a problem.
Flexispot Deskcise Pro V9: Final Verdict
If you're someone who just can't find the time to hit the gym because you have too much to do, this could be a great solution (temporary) for you. This bike is a wonderfully innovative idea where you're able to combine work and exercise. However, I do not believe that it is a substitute for going to the gym or exercising. If you live a 100% sedentary life, this is a perfect first step into leading a more health-conscious lifestyle.
The Deskcise Pro could also be a nice solution for anyone looking to compliment an already healthy lifestyle. I go to the gym 5 days a week but that hour of exercise cannot combat the 12 hours I sit at my desk. That's where the V9 comes in. The Flexispot Deskcise Pro V9 has been a great compliment to my workout routine. I can push it under my desk and ride for 20-30 minutes or sit on my terrace and answer emails.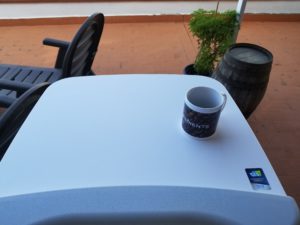 Compliment, not substitute
I've found that doing "serious" work on the V9 (for me that's translating where I use two screens) doesn't work very well for me. However, as I mentioned, if I'm answering emails, posting on social media, final edits or writing articles, the Flexispot Deskcise Pro has been a great addition to my daily routine.
For less than $400 you'll be buying a static bike, standing desk and the ability to get some exercise while still being productive. Plus, it's also tax deductible for freelancers and those who work from home. That means it'll come out to be less than $300 when all is said and done. Not a bad price to pay to improve your health and well-being. Adding movement and exercise into your routine will greatly benefit you both physically and mentally. I believe Flexispot is onto something great with their Deskcise Pro.
If you're ready to take the leap into a healthier lifestyle than click the link below to head to the website!
Flexispot US: Flexispot Deskcise Pro V9
Flexispot UK: Flexispot Deskcise Pro V9
Amazon.com or Amazon UK: Flexispot Deskcise Pro V9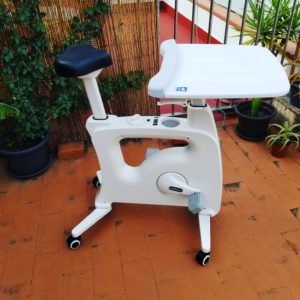 Have you tried out the Flexispot Deskcise Pro V9? What were your takeaways? Leave your thoughts in the comments below.