Discount Executive Chairs – The best options for under $200
Discount Executive Chairs – The best options for under $200
If you're looking for an executive chair on a budget then you've come to the right place. As for most freelancers, myself included, we can either be enjoying a nice sirloin or a bowl of rice for dinner, depending on the season I completely understand the need to pinch some pennies. I'm going to break down some of the best discount executive chairs out there and what you should look for when you're shopping.
The Best Discount Executive Chairs
You get what you pay for
Have you ever head the old saying that " you spend a third of your life in your bed, so do it right". I'm sure you have, but if you think about it, you also spend (at least) at least 8 hours Mon-Fri, 1,900 hours per year, sitting in your chair (Unless you've upgraded to a sit stand desk top workstation. In that case, I'd recommend you take a look here, Sit Stand Desk Top Workstation – Budget-Friendly Way to a Healthier You, and also, congratulations! It's one of the best things you can do for your body.
If you aren't quite ready to make that move than ya, your keester will be in that chair for almost 2,000 hours this year, so, you better do it right. I'm not saying that expensive = quality but spending a bit extra on something that will get daily use probably isn't a terrible idea.
However, if you're really strapped for cash and need a chair I've got you covered.
What you should look for
Lumbar support: most office chairs nowadays come with some lower back support. The better ones will even come with adjustable support so you can make sure it nicely contours to your lower back.
Adjustability: Even dirt cheap chairs come with height and arm adjustments. However, you should look for chairs that have about 5 different adjustable areas. Some, more expensive chairs can come with up to 14 or so. Some of the top adjustments to look for are lumbar support, seat height and width, seat back angle, tension control and arm width and height
Wheels: basically all office chairs come with wheels nowadays but if you're working on a carpet you'll either have to get yourself a chair with carpet-specific wheels or a mat.
Swivel: if you're working on a big desk with file cabinets and drawers you'll want something that will move with you. It's one of those things that you don't realize you miss until it's gone.
Fabric: You'll want something that's breathable. You'll appreciate it after you've sat in it for four hours and don't have a sweat stain.
Top discount executive chairs for under 200 USD
TOPSKY Mesh Computer Executive Office Chair
Price: 169 USD
Cheapest place to buy: Amazon.com
Material: Sandwich Mesh and Nylon
Rating: 4.1 out of 5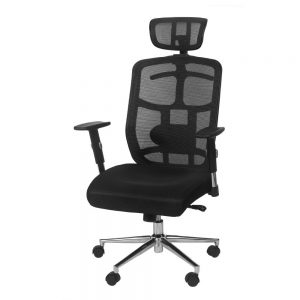 1-year warranty
Breathable back (plus hanger for your outfit the following day)
Adjustable: headrest, lumbar, armrests, tension control
360 swivel and wheel
Price: 199 USD
Cheapest place to buy: Amazon.com
Material: Sandwich Mesh and Nylon Base
Rating: 3.8 out of 5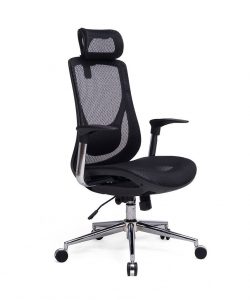 Adjustable: seat height, headrest, armrests, tilt tension, lumbar support
Breathable nylon base and casters
360 swivel and wheels
AmazonBasics High-Back Executive Chair
Price: 199 USD
Cheapest place to buy: Amazon.com
Material: Sandwich Mesh and Nylon Base
Rating: 3.8 out of 5
Seat height adjustability, tension control and
Black leather and PVC
360 swivel and wheels
Warning* will wear down with constant use
NOTE* There are many who love this chair and many who really dislike it! For a temporary user this chair is fine but daily use over a few years and you will see a lot of wear and tear.
Happy Hunting for Discount Executive Chairs
A word to the wise: remember for this price (under 200 USD) you won't get something great, you'll get something good. These should last you a couple of years and at this price, it's really hard to complain about it. None of them are perfect, but they're also the lowest range that all three of these manufacturers make. As I said at the beginning if you're strapped for cash these will do the job until your able to buy a more permanent, long-term option.
I hope this has helped you a bit with your decision making and Happy Freelancing!