Best Gifts for Freelancers 2020 – Don't miss out!
Best Gifts for Freelancers 2020 – Don't miss out!
Hey Guys! We all have health-conscious freelance friends/family members (or at least ones you wished would worry a bit more about their health). But how are you supposed to buy presents for someone like that? Don't worry. It'll all be ok. I've compiled a list of some of 2020's best gifts for freelancers that are a bit more health-conscious.
Amazon Affiliate Disclosure: This post contains affiliate links. If you purchase something through one of the links, you won't pay anymore, but we will get a small commission to help keep us up and running. Thank you and enjoy!
Best Gifts for Freelancers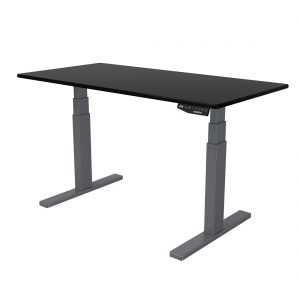 So we're going to start this list of best gifts for freelancers 2020 off with a bang! It's a bit on the high-end but can you really put a price on health and not having back pain? I've mentioned in one of my other articles, Sit-Stand Desk Top Workstation – Budget-Friendly Way to a Healthier You, that these desks will probably pay for themselves over the years. If you regularly see a massage or physical therapist for back pain then the $409 price tag really only comes out to around 8 massages over the next 5-10 years.
This Flexispot Standing Desk is a solid example of a standard standing desk: ergonomic design, 4-height memory controller, and 2 holes to organize chords. This would be a perfect gift for any health-conscious freelancer who wants to take it to the next level.
*Plus, if you click here you can get a code for 5% off!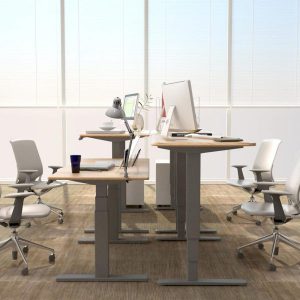 This item on our list of best gifts for freelancers 2020 is a bit less of a commitment then the whole desk mentioned above.  It's a straight-out-of-the-box and ready to work type of deal. Varidesk is a top name in the sit-stand desk workstations, and this is no exception.
I chose this particular model because many freelancers, myself included, prefer using two monitors as we need to have quite a few windows open and space to visualize everything we're working on. The two-tier design also lets you have both the keyboard and monitor at perfect working height. It comes with 11 different height settings and a huge keyboard and mouse tray. Small keyboard trays are the most common complaint on most of these desk converters, but there shouldn't be any problems this one, as you can see in the photo.
They've recently come out with an electric version as well. Check out my review at Varidesk Adjustable Height Stand up Desk – Pro Plus 36 Electric Review.
Unfortunately, even with standing desks or desk converters, it's a good idea to sit down during the day.
Ah, Herman Miller, how we love you! These chairs are top of the line in every way: ergonomic, sturdy, fully-adjustable, breathable, and as an added bonus, made in the good ol' US of A. At less than $500 this chair is an excellent gift for any office worker. This chair will keep your freelancer healthy for many years to come and it's definitely one of the best gifts for freelancers 2020 who work at a desk.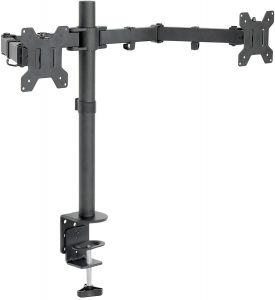 If you're not quite ready to make the plunge into standing desks yet, this would really help to clear up some desk space. This dual monitor desk mount would be a great gift for any freelancer who's tight on space or just like to spread things out. It comes with bracket plates which make it easy to attach monitors and a built-in cable organizer so you won't have to worry about them making a mess. The desk clamp opens up to 4″, but if you want a bit of extra stability, you could get a grommet mount as well.
At only $41 this stand is a steal and with a 4.6 out of 5 stars and over 2,600 reviews you know it's worth every penny and one of the best gifts for freelancers!
Best Gifts for Freelancers
Is your freelancer still working on a monitor from before Obama was president? This pack of View Sonic 24-inch monitors (compatible with the desk mount above) is incredible for the price. If your freelancer works with graphics or photos a great pair of monitors is an incredible gift!
1080p resolution for crisp details
Ultra-thin bezel for maximum ease of use
built-in speakers to save even more space
Super-wide viewing areas
DisplayPort, HDMI, and VGA inputs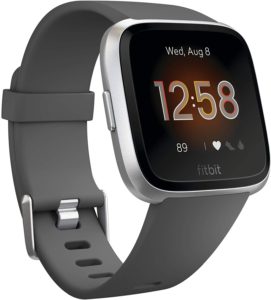 Health conscious people, particularly freelancers love to track everything. With the Fitbit Versa you can do exactly that! Some of its features include:
Heart rate
Sleep
Running/swimming mode
GPS with smartphone
Water resistant
Apps
Calls, texts and notifications
Quick reply
It really is an all-in-one solution for freelancers who like to stay connected. This is easily one of the best gifts for freelancers out there in 2020 and they'll love you for it!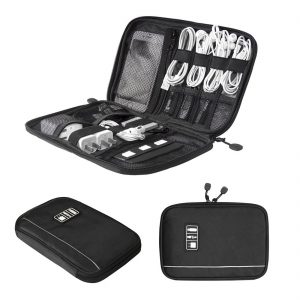 If your freelancer has gadgets, they've got cables. There's no way around it (yet). Travelling, working out of the house, really going anywhere with a few devices and chords somehow turn into a rat's nest. This cable organizer fixes all of those problems. With different compartments for chords, headphones, plug-ins, memory sticks. This organizer will have your favorite freelancer up and ready to get things done no matter where they decide to be productive in 2020.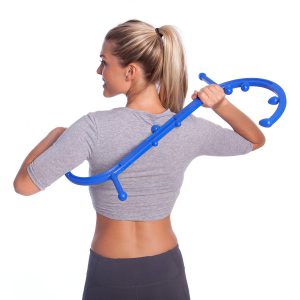 Even if you have a beautiful stand-up desk, an ergonomic Herman Miller chair, aches and pains happen. It's just a fact of life these days. This tool may look a bit "interesting," but it's perfect for working out those hard-to-reach knots in your neck and back. Freelancers the world around need to have this in their arsenal for those tough days when nothing seems to be going right. One of the best gifts freelancesr can get.
Can you image spilling your coffee on your laptop or Ipad? For most freelancers, we depend on our electronics for our livelihood (and maybe yours). One little slip-up could be the end of weeks and weeks of hard work (not to mention $1000's of dollars to replace them) Don't let this happen and save them from their own clumsiness!
This spill-saving drink holder will keep any accidental arm sweep or surprise cat attacks from costing thousands. They'll thank you in the end. I promise!
This book is a perfect gift for anyone who works from home. The whole idea of the book is to make life easier and more enjoyable. Who doesn't want that in their life? It's chock full of tips for working smarter and faster leaving more time for them to spend with friends and loved ones (that's you!).
Wrap-up (get it?)
Thank you for browsing, and I hope it helped you with some gift ideas for that one-of-a-kind freelancer in your life. We're a special group of people who decided to leave the corporate world behind (and stability) to try and make it on our own. The items on this list of best gifts for freelancers in 2020 will make that transition or journey much more comfortable and it will also show them that you support them in everything they do.
Do you have any other ideas to add to this list of best gifts for Freelancers in 2020? Please share in the comments below.